We are a participant in affiliate programs like the Amazon Services LLC Associates Program, an affiliate advertising program. We may be compensated by linking to these sites at no additional cost to you! Thanks for your support.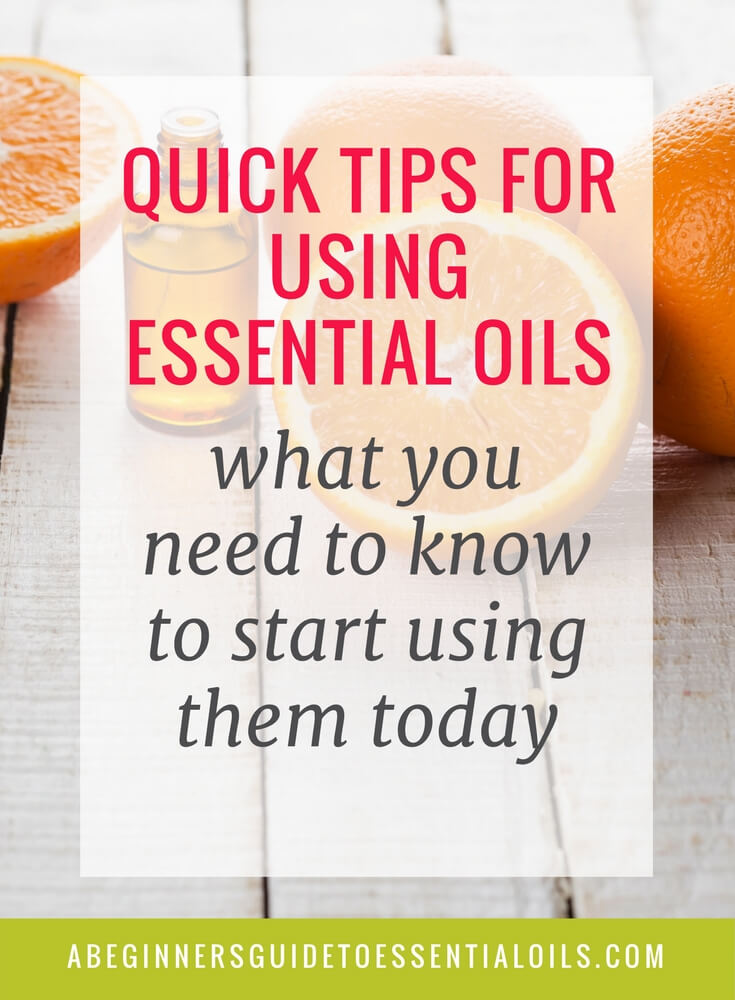 When you first start using essential oils, it feels like information overload. There is so much (sometimes contradictory) advice and information that it can be difficult to sift through it all.
I suggest you focus on the basics – how to diffuse essential oils (one of the easiest ways to use them), the basic techniques for applying them topically, and ways to use them around the house.
Learn a few basic tips for using essential oils – that you can do today!
Tips for Using Essential Oils
When you're first learning about essential oils, it can be overwhelming sifting through all the available information (and some of the crazy hype). Below you'll find some of my most popular posts about essential oils – the information that people are searching for most often.
These 7 quick tips for using essential oils cut through all the noise and get right down to the facts:
How to Diffuse Essential Oils
Diffusing is by far the easiest way to begin using essential oils.
Add a few drops of oil to an ultrasonic diffuser and you can clean the air, keep the family healthy, and make it smell nice. Plus it's the most cost-effective method for everyone in the family to receive the benefits – all from just a few drops of oil.
Read about diffusing: How to diffuse essential oils
Dilute Oils for Topical Use
I can't say it enough – dilute, dilute, dilute. Essential oils are powerful and should be used with care.
Proper dilution is important for almost every oil. It's not hard – use a carrier oil (like sweet almond oil), add a drop or two of essential oil, apply to location.
Read about dilution: How to apply essential oils
Where to Apply Essential Oils
There are actually many ways to apply oils topically for specific needs. You can apply oils right at the location but you can also apply them to other areas of your body for faster absorption, depending on what you are using the oils for.
Read more about applying oils: Where to apply essential oils
What to do if an essential oil isn't working
Sometimes an essential oil just doesn't work like you would expect it to. There are so many different reasons for this.
The best thing to do is work out a plan – add another oil to the mix or switch to a different oil altogether.
Read more about essential oils that don't work: Why Essential Oils Don't Work
Make your own Essential Oil Journal
When you do find an oil or blend that works exactly the way you need it – write it down! I bought a nice little journal and record what works for my family.
Read more about making your own journal: Organizing Essential Oil Recipes
Make them part of your everyday life
We use essential oils daily – diffusing a blend in the morning (usually something germ-fighting during the winter months) and again at night (our sleepytime blend).
There are some in our homemade cleaning supplies and some for everyday health and wellness. Start with a few small things that you think essential oils will be beneficial for and go from there.
But you'll need some basic supplies to get you started.
Read more about my favorite supplies: Essential Oil Accessories
How to Save Money
Incorporating essential oils into your everyday life does mean you'll have to spend some money. But it is worth the investment to make your home a healthier place. And there are a few ways you can save money when you're getting started.
Read my money saving tips: How to Save Money on Essential Oils