We are a participant in the Amazon Services LLC Associates Program, an affiliate advertising program. We may be compensated by linking to Amazon.com and affiliated sites at no additional cost to you! Thank you for your support.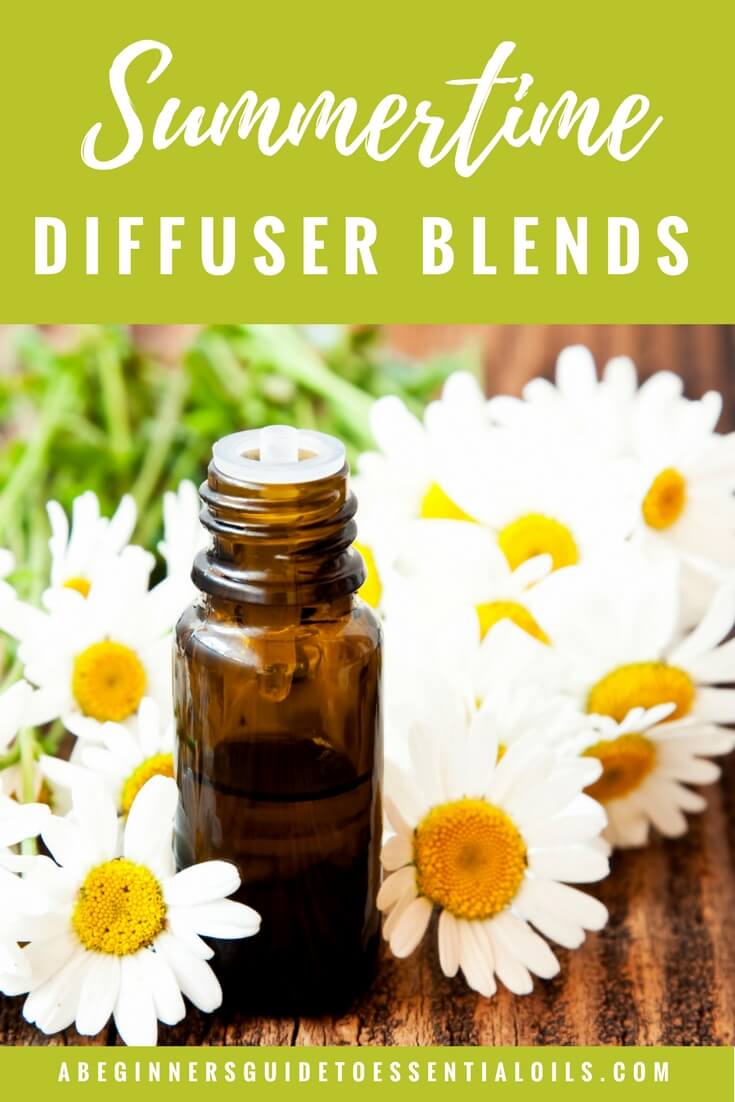 Summer is the perfect time for having essential oil blends! It is a time for fresh breezes and open windows.
While I don't run my diffuser as often in the summer there are times I love to make sure I have some wonderful aroma wafting through the house (especially when it's so hot outside and I want to keep the air conditioning on!).
Here are some of my favorite summer essential oil diffuser blends.
Summer Essential OilS & Diffuser Blends
What scents do you think of when you think of summertime?
There are 'beachy' smells – coconut and tropical scents. Or perhaps you prefer a summer garden or floral scent. And that ocean breeze has a scent all its own.
Wouldn't it be nice to enjoy those aromas whenever you like? You can with your essential oil diffuser!
1. Ocean Breeze Diffuser Blend
If you want to make your home feel like an oasis, try this ocean breeze essential oil recipe. With its floral aromas and a hint of lime, it smells so nice!
3 drops Jasmine
3 drops Lavender
2 drops Lime
2. Seaside Diffuser Blend
Enjoy an ocean scent with essential oils – just like you're at a seaside resort with this diffuser blend.
2 drops Lime
3 drops Sandalwood
3 drops Jasmine
3. At the Beach Diffuser Blend
When I think of the beach I think of citrus smells (it must be all those fruity drinks!). This beach essential oil blend is one of my favorites.
2 drops Lime
2 drops Tangerine
2 drops Grapefruit
4. Summer Garden Diffuser Blend
It wouldn't be summer without some time spent in the garden. This herbal blend, with a hint of citrus, will make your home smell fresh and clean.
2 drops Basil
3 drops Bergamot
2 drops Orange
5. Sunny Bouquet Diffuser Blend
Floral smelling essential oils are some of my favorites, especially in the summer. And this blend has a wonderful floral and slightly fruity scent.
3 drops Bergamot
3 drops Jasmine
2 drops Geranium
6. Tropical Breeze Diffuser Blend
It wouldn't be summer without something tropical! This tropical essential oil blend recipe combines citrus and peppermint with a bit of floral – it's a great combination!
3 drops Mandarin
3 drops Bergamot
2 drops Peppermint
---
Related Content:
Everyday Essential Oil Diffuser Blends
---
Summertime Essential Oil Scents
It is really easy to start creating your own diffuser blends. And a great way to safely experiment with your essential oils.
If you're ready to experiment with your own summertime diffuser blends, consider the scents that are reminiscent of the summer months:
Citrus: Orange, Bergamot, Lime, Mandarin
Floral: Geranium, Lavender, Jasmine
Herbal: Basil, Thyme, Peppermint
Select one from each category or mix-and-match as much as you want. Hold the selected essential oils beneath your nose and inhale deeply. Like the combination? Then add a few drops of each to your diffuser. It's as simple as that!
More Ideas for Summer ESSENTIAL OILS
Looking for even more ideas? Take a look at these articles: