The content of this website contains affiliate links, and we may be compensated at no additional cost to you! Thank you for your support.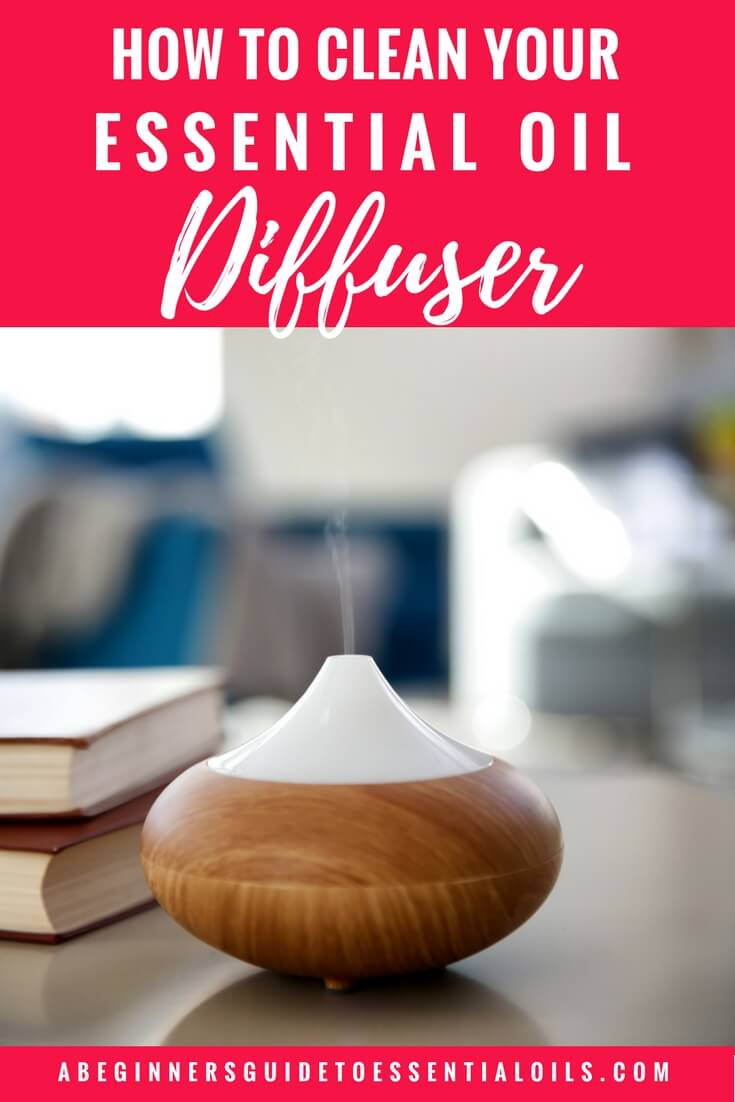 The easiest way to start using essential oils is aromatically using an ultrasonic diffuser. But how do you keep your essential oil diffuser clean?
While it certainly is easy to start using a diffuser, you will need to give that diffuser a good cleaning once in awhile. Thankfully, it's not a very difficult task! Let me show you how to clean your essential oil diffuser.
How to Clean an Essential OIl Diffuser
The standard ultrasonic diffuser includes a reservoir area for the water and oil mixture that includes a small disc at the bottom and a lid that goes over the reservoir.
After you start to use yours on a regular basis you may notice that the reservoir starts to look a bit dingy inside. This could be from hard-water build up (if you're using tap water) or the residue from the oils you've been diffusing.
You may also notice the diffuser isn't releasing as much mist or it's sounding louder. Those are also signs that it's time for a good cleaning.
The first thing you must remember is that the base of the diffuser cannot be submerged in water. There's a motor inside and lots of mechanical bits that shouldn't get wet!
But, while the outside shouldn't be submerged in water, you can and should give the inside of the reservoir a good cleaning.
There are a few ways you can do this:
First, whenever you refill the diffuser give the reservoir a quick wipe with a damp paper towel. This will keep some of the build-up from forming.
Then, once every month or two, give it a deeper cleaning. You can clean it with a mixture of vinegar and water or purchase a special cleaning solution.
---
Related Content:
How to Diffuse without a Diffuser
---
How to Clean a Diffuser with Vinegar
Caution: unplug diffuser when filling and emptying water from the base unit.
Fill the reservoir of the diffuser with water and add about a tablespoon of vinegar (no need to measure, just pour some into the water).
Run the diffuser for 15 minutes, turn it off, and let the mixture sit in the diffuser for a few hours. Then, empty the diffuser and wipe it out with a damp rag or paper towel.
If the ultrasonic plate (the small disc at the bottom of the reservoir) still looks dirty, dip a cotton swab in isopropyl alcohol and gently wipe it clean.
The lid is usually the easiest part to clean – soapy water and a good rinse will do the trick. If the outside needs a cleaning, wipe it down with a damp cloth (remember – don't submerge the base in water).
And here's a tip I haven't tested myself but have heard recommended from other essential oil users — when there seems to be an odor that won't go away: wipe out the reservoir with some imitation vanilla (which should neutralize the odor on the plastic) and then diffuse water to remove the odor completely.
If you want to skip the vinegar mixture, you can purchase a (referral link –>) cleaning solution that's made specifically for cleaning an ultrasonic diffuser.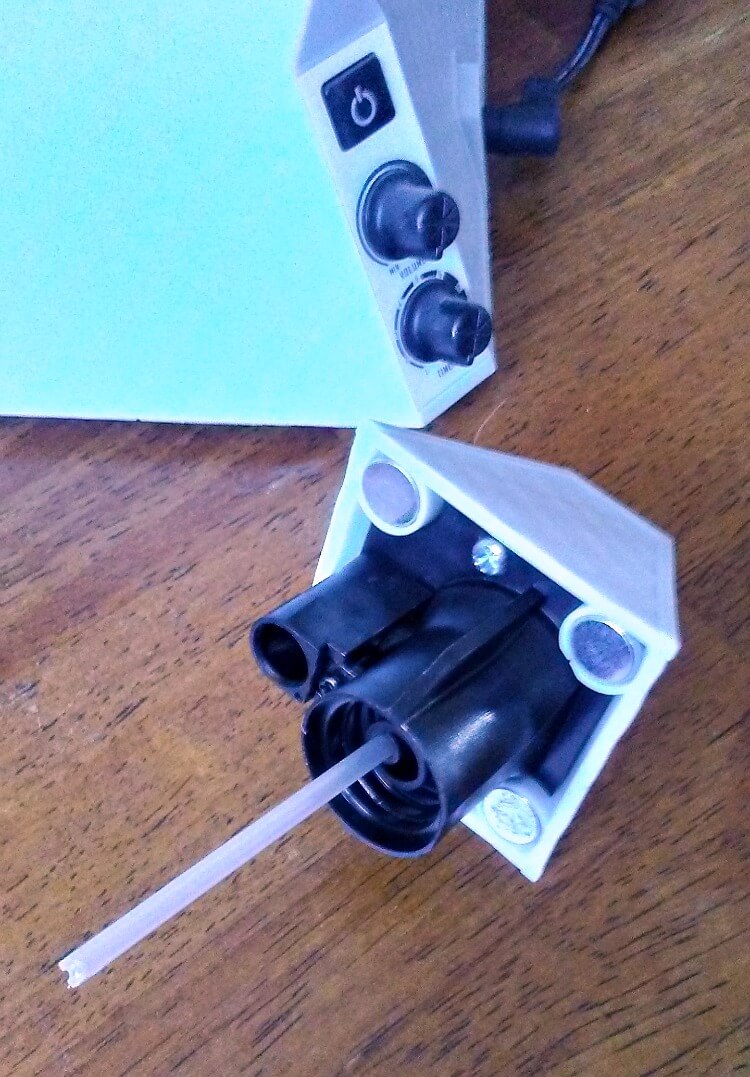 How to Clean a Nebulizing Diffuser
Instead of filling a reservoir with water, a bottle of essential oil is attached directly to a nebulizing diffuser, giving you a very strong mist of oil. That also means it's a bit harder to clean.
If you've diffused thicker or stickier oils, they may clog the diffuser or impede the performance if you don't give them a good cleaning once in awhile.
Take the pieces apart as much as you able and soak (the non-mechanical bits) in a bowl of water with a tablespoon of vinegar added. The outside of the base and other parts can simply be wiped down with a damp cloth.
Evaporative diffusers vary so be sure to check the guidelines that are included with yours for any special care and cleaning tips.
How to Clean an Evaporative Diffuser
Cleaning an evaporative diffuser is very simple since they're usually aren't any small parts to fiddle with. Remove the scented pad and wipe everything down with a damp cloth. Re-insert the pad and you're ready to diffuse!
One last tip
If you have a diffuser from DoTerra or Young Living, DiffuserDoc might be able to help you out with replacement discs.