We are a participant in the Amazon Services LLC Associates Program, an affiliate advertising program. We may be compensated by linking to Amazon.com and affiliated sites at no additional cost to you! Thank you for your support.
Don't you just love autumn?
The crisp air, the beautiful changing leaves, all those pumpkin spice flavored drinks.
Now you can have that scent in your home too – with one of these fall essential oil diffuser blends.
And, if you're not sure how to create a blend for your diffuser – I'll show you one simple method that will have you designing your own combinations in no time!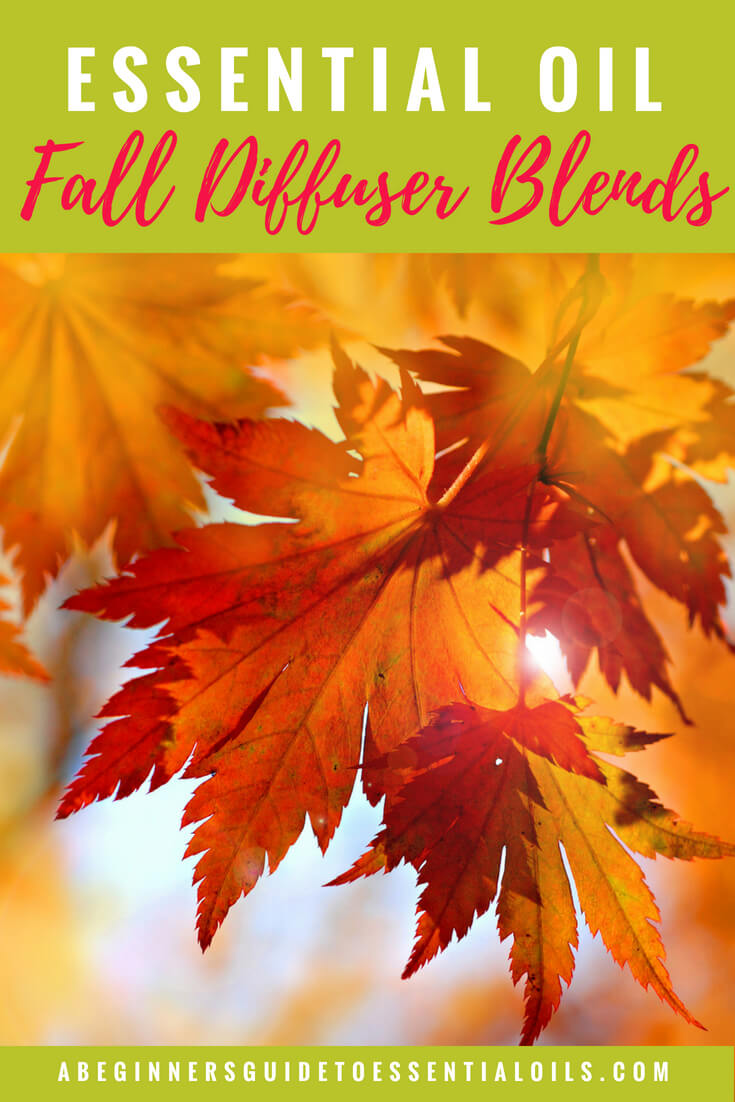 Fall Essential Oil Diffuser Blends
Fall is one of my favorite seasons but I don't like how my home starts to smell stuffy. You know – when it's getting chilly and it's time to keep the windows closed your home can start to smell a little stale.
That's one of the many reasons I love diffusing essential oils.
My home can smell fresh and clean and I know that I'm giving my family a healthy boost (because diffusing is a good thing!).
Why do you want to diffuse essential oils?
Here are just a few things diffusing can do:
Improve concentration & mental clarity

Eliminate airborne germs & bacteria

Relieve tension

Alter molecules that create odors
For more reasons read: Why Diffuse Essential Oils
Keep Your Home Smelling Fresh all Season with these Fall Essential Oil Blends
Now that I've convinced you to start running your diffuser, give some of these fall essential oil blends a try!
English Pomander
Have you ever made a pomander? Basically, it's a clove-studded orange – doesn't that combination just smell lovely? This one reminds me of the changing seasons – and the coming arrival of Christmas.
4 drops Orange
2 drops Clove
Evening Stroll
This combination is reminiscent of a walk through the woods in the fall. If you can't get outside to enjoy the cool, crisp air – bring the scent home with you.
4 drops Cypress
2 drops Fir
2 drops Sandalwood
Mulled Cider
Seasonal goodness in your diffuser! It smells like the quintessential seasonal drink and it's antibacterial properties will clear the air at the same time.
4 drops Orange
1 drop Cinnamon
1 drop Ginger
Autumn Air
Have you ever noticed how the air begins to smell differently when fall sneaks in? This diffuser blend will remind you of that scent all year long.
2 drops Juniper berry
2 drops Cedarwood
2 drops Orange
1 drop Clove
Looking for more diffuser blend ideas? Here you go: Essential Oil Diffuser Blends
---
Get Your Fall Diffuser Blend Ideas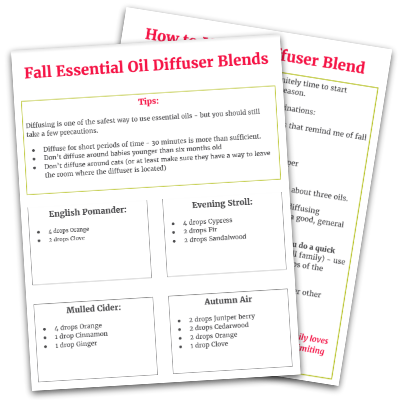 Put your email address in the form below to join the community & learn how to create a healthy home with essential oils – and start filling your essential oil diffuser with some wonderful fall scents (and bonus tips for creating your own fall-inspired diffuser blends!).
---
A Simple Method for Creating Your Own Fall Essential Oil Blends
If you're feeling adventurous, then it's definitely time to start creating your own signature blends for the season. But how do you start?
First, think of the scent of each oil. The scents that remind me of fall include:
Citrus – Orange, Bergamot
Woodsy – Fir, Sandalwood, Cedarwood, Juniper
Spicy – Cinnamon, Clove, Ginger, Nutmeg
Then, combine one from each category. I like to keep it to about three oils and a maximum of 8-10 drops is usually sufficient for diffusing (depending on the size of your diffuser – but that's a good, general estimate for most average-sized diffusers).
Bonus tip! Don't start adding those oils to your diffuser until you do a quick sniff test. If an oil smells strong (the spicy essential oil family) – use fewer drops — one is often enough (and more drops of the lighter scented oils). Strong oils like Clove or Cinnamon will quickly overpower other scents so use a light hand.
It's all about experimenting and finding what your family loves — but keep your experimenting safe (and that means limiting spicy, hot oils).
---
Related Content:
Refreshing Spring Diffuser Blends
---
New Fall Essential Oil Sets from Plant Therapy
Affiliate links below!
If you prefer something quick and easy (without having to figure out which oils to use) – you NEED this fall essential oil set from Plant Therapy. They smell so, so good! I promise you won't be disappointed.
Don't miss out – this is a limited time promotion!
Fall Rain
If you love those crips fall walks, then you will LOVE the Fall Rain blend
. It really does remind me of an evening walk on a fall day with the woodsy aroma of Douglas Fir and Juniper.
Another great way to use this blend? Add 10-15 drops to an aromatherapy inhaler and inhale as needed to ease congestion and calm the body.
Maple Leaf
If pumpkin isn't your scent of choice, then you need to try the
Maple Leaf blend. It has such a yummy smell! If you love the scent of vanilla then you will love this one. It almost reminds me of a vanilla chai latte.
This would be a great blend to add to a cotton pad inserted into a hot pad – it will release it's aroma as the hot dish is placed on the pad. Or, add a few drops to your favorite unscented lotion before applying to the skin.
Harvest Moon
Harvest Moon reminds me of freshly fallen autumn leaves crunching beneath my feet on a crisp fall day. The blend of Bergamot, Cedarwood, Fir Needle, Juniper Berry, and Cardamom really does provide a woodsy, crisp blend with a hint of sweetness.
Even better, this blend is a great option to ease congestion if you happen to catch a cold or add to your favorite carrier and apply to sore or overtaxed muscles. Bonus!
Be sure to get these blends while they are available!
---
Download the Fall Diffuser Blends & Tips for Creating Your Own Blends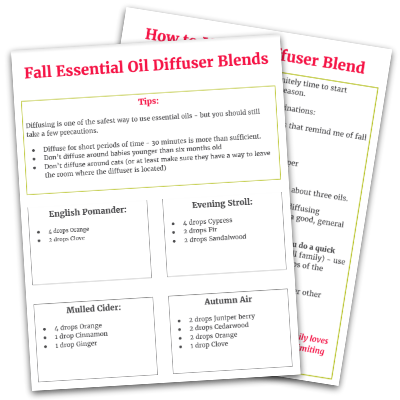 Put your email address in the form below to join the community & learn how to create a healthy home with essential oils – and start filling your essential oil diffuser with some wonderful fall scents (and bonus tips for creating your own fall-inspired diffuser blends!).