The content of this website contains affiliate links, and we may be compensated at no additional cost to you! Thank you for your support.
Aromatherapy with Essential Oil Diffusers by Karin Parramore is a beautiful black-and-white (and blue) 200-page book filled with information about using essential oils for health and wellness. Like the title suggests, the focus is on diffusing, but you'll find more than that in this comprehensive book.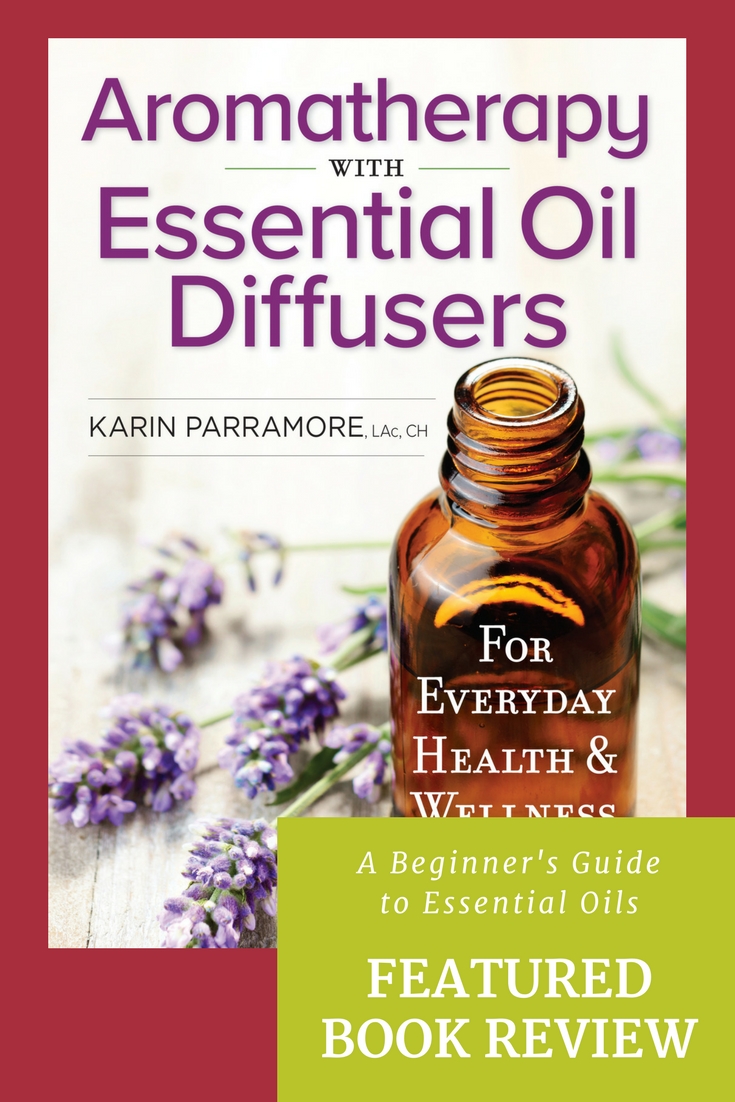 I received this book for free. No other compensation was provided. All thoughts and opinions expressed are my own. This article contains affiliate referral links.
More About Aromatherapy with Essential Oil Diffusers
From the publisher's website:
Aromatherapy and essential oils are more popular than ever, as more and more people discover that concentrated aromatics can be used in a therapeutic way, to address imbalances in our bodies that can lead to poor health.
In this perfect companion book to your favorite diffuser, Karin teaches you how to diffuse essential oils, from ammi to ylang ylang, to improve your physical, mental and emotional health and to destress your time, your workspace and even your car.
Part 1 covers the history of aromatherapy, explains the different types of diffusers and teaches you how to choose, use and store essential oils.
Part 2 provides detailed instructions on diffusing essential oils to treat various health conditions and offers over 160 formulas for specialized oil blends.
About the Author:
Karin Parramore, LAc, CH, is the owner/formulator of Luminous Presence facial treatments and skin care products. She teaches at both the National University of Natural Medicine and Ashford University in the Bachelors of Complementary and Alternative Health program.
Karin obtained Chartered Herbalist status from Dominion Herbal College in 2001 and has a degree in Chinese Medicine from the National University of Natural Medicine. She has been a practicing aromatherapist since 2002. She lives in Portland, Oregon.
---
Aromatherapy with Essential Oil Diffusers
Paperback: 216 pages
90 illustrations
Publisher: Robert Rose; 1 edition (November 17, 2017)
ISBN 978-0-7788-0588-5
---
A Closer Look at the Book
Aromatherapy with Essential Oil Diffusers is divided into two parts. The first part focuses on the basics of essential oil diffusion and the second part shows you how to use aromatherapy for health and wellness.
In the first section, you'll learn everything you need to know about diffusing essential oils – the history of aromatherapy, the different types of diffusers (there's certainly more than one!) and ways to enjoy the aromatic benefits of oils beyond diffusers, and a section on the basics of essential oils.
After learning all the basics in section one, the second part of the book shows you how to put all those methods into practice in your everyday life. The author shows you how to use essential oils for daily health needs and how to enhance your environment with essential oils. While it isn't a large book, it does cover the basics of aromatic usage very well. For each concern covered, there is a list of recommended essential oils, essential oil blends, diffusion guidelines, and other notes and cautions.
Review of Aromatherapy with Essential Oil Diffusers
I'm very impressed with this book and glad to have it in my essential oil reference collection. I especially like the section on types of diffusers. While you'll learn about the basic ultrasonic and other diffusers, there are more ways to enjoy the aroma of essential oils beyond those diffusers, and this book discusses all those choices.
While the reference section is short, it's well laid out and comprehensive – focusing on using essential oils aromatically with plenty of recommended blends and ways to use them.
I highly recommend this book for beginning essential oil users – especially those who want to be a bit cautious about topical application. This book focuses on aromatic usage – and there is plenty of that in this book. I find that people often rush to use essential oils topically when aromatic usage is a better idea – and this book shows plenty of ways to enjoy the benefits of essential oils without applying them to your skin.
Aromatherapy with Essential Oil Diffusers
Paperback: 216 pages
90 illustrations
Publisher: Robert Rose; 1 edition (November 17, 2017)
ISBN 978-0-7788-0588-5